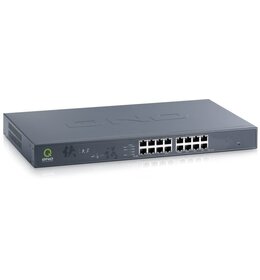 QNO QVF8072 Fast VPN Router
4x100Mbps WAN + 11x100Mbps Switch LAN + DMZ Intel IXP 533Mhz processor, 64MB SDRAM Capacity: Around 300 PCs in LAN VPN Throughput: 90Mbps in 3DES Support 200 IPSec and 50 PPTP Tunnels (Tunnel numbers adjustable) Support Qno exclusive QVM quick l...
Beschikbaarheid:
Op voorraad
Van: €650,00
Voor slechts:
QVF8072 is a perfect security appliance designed specifically for small to medium enterprises to establish business networks with robust security/ease of use VPN connections. It contains four WAN ports and eleven Ethernet/Fast Ethernet LAN ports to deliver high interface flexibility and scalability for Internet access and your private network. With comprehensive manageable functions combining firewall, VPN, QoS, NAT, and powerful traffic management, this router brings an elegant all-in-one solution to enterprise businesses, service providers, call centers, and data centers. Most of all, this appliance equipped Qno's exclusive VPN features, QVM SmartLink & QnoKey, provides extremely easy VPN setup and plug-and-play convenience to remote gateways and mobile users.
Geen specificaties gevonden